This post is presented in collaboration with Ticketnework
Luxor

Luxor is the hotel on the Strip with the theme of Ancient Egypt.

Address: 3900 Las Vegas Boulevard South, Las Vegas, NV 89109
(Located between Excalibur and Mandalay Bay)




The hotel has several different restaurants, spa and the hotel is participating in the Green Key Eco-Rating Program. A program that sees the hotel's environmental impact etc.




Bodies "The Exhibition"
Do not miss the show if you are in Las Vegas. Bodies - The Exhibition has been experienced by millions of people all over the world. See how the body looks like and many different natural-sized bodies. There are also organ appearances at the exhibition. Much is in three-dimensional view.

Buy Tickets to Bodis - The Exhibition" »

Chris Angel "Mind Freake"

Chris Angel has won the award as "Magician of the Century". His magical businesses leave guests in a state of confusion, reverence and fascination. Some off the most amazing illusions of the wizard of the century!

Buy Tickets to Chris Angels show "Mind Freake" »
Titanic "The Artifact Exhibition"

Do you love the story of Titanic and the fate of the ship in April 1912. Visit the 25000 sqm exhibition that has clays taken from the depths like luggage, whistles, floor tiles, window frames and an unopened bottle Champagne. The exhibition also shows a full-scale copy of the Grand Staircase and a built-up promend tire deck that has the same temperatus as the fate night in April 1912 when the ship sank.

Buy Ticket to Titanic - The Artifact Exhibition" »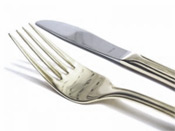 At Luxor hotel and casino you will find the following restaurants:

Tender Steakhouse, Slice of Vegas, Burger Bar, Ra Ra Irisch Pub, Strabucks´s Cafe, Blizz, Backstage Deli, Pyramid Cafe Delivery, Luxor Food Court, Rice and Company, T & T, Pyrmaid Cafe, Public House

Buffet: The Buffet at Luxor
Opened on Oct. 13, 1993

The hotel opened on 13 October 1993. Costing $ 375 million to build.

The theme is ancient Egypt with the big black Pyramid. Has been named after the town of Luxor in Egypt. You'll find a large obelisk, the tomb of King Tutankhamen, a sphinx etc.

Fun facts - Luxor in Las Vegas

The big black pyramid is 106 metres high and contains 30 floors. Almost as high as the Pyramid of Giza, which is 138 meters high.

In the evening rays the world's brightest light beam up in the sky. The light beam can be seen throughout Las Vegas and all the way to Los Angeles... if you are sitting in an aircraft... is said to also be seen from space.


Here you'll find the following types of games:
Blackjack, Craps, Roulette, Baccarat, Pai Gow Poker, Poker, Video Poker and Megabucks and, of course, lots of slot machines. Luxor also have poker room.

| | | |
| --- | --- | --- |
| Safe booking with credit card. Confirmation of your reservation by e-mail. | | |
Pictures: Top picture Luxor - en.wikipedia.org / Carrot Top - www.carrottop.com / others - SXC and wikipedia.
Facts: en.wikipedia.org